Description
Steam Marines is a squad-based roguelike where you take control of intrepid marines and fend off invading robots and aliens from your steampunk space ship. Deceptively cute; will murder your face.
History
The game started off called Quad and was heavily inspired by Chess. Then it morphed into a fantasy/technology mashup spaceship crawl with an overworld and magic and creatures influenced by the Exile series. Then it turned into Steam Marines - a steampunk dungeon crawl with permadeath and a squad of intrepid space marines!
Features
Turn-based. Squad-based. Tactics-based.
Procedural generation of levels coupled with New Game Plus.
Destroy terrain. Knock your enemies into space.
Four marines, five classes. Balance your squad or specialize as you wish.
Thirty levels of mayhem and New Game Plus.
Finite lives. Infinite replays.
Logo & Icon
download logo files as .zip (271KB)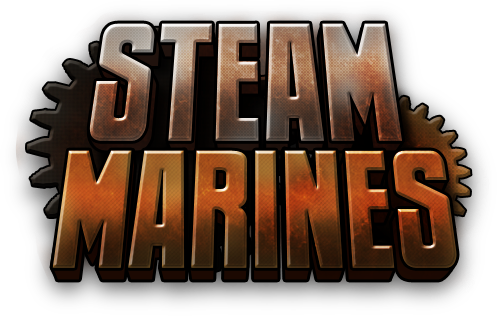 Awards & Recognition
"Steam Marines has won no awards..." But it did get 12 votes for Ascii Dreams roguelike of the year in 2012! http://roguelikedeveloper.blogspot.com/search/label/ascii%20dreams%20roguelike%20of%20the%20year
Selected Articles
"The project is under development by a team called Worthless Bums, and is appearing very active in their efforts to bring about a finished product. It'll be interesting to see what future updates bring to Steam Marines and how far it will go. If you're looking for a small, squad-based tactical strategy rogue-like game, and you were a fan of Space Hulk, I'd recommend giving Steam Marines a look."
- Scott Parrino, The Wargamer
"Overall, I have to say I really enjoy this game. Not only do I get the X-COM vibe that I loved about the 1993 game, but it is also a great time making life-changing decisions and managing a squad of really cool steam marines. Do yourself a favor and try the game out as soon as you can."
- CaptainKraft, Indie Love
"Being a roguelike means you can expect procedurally generated levels making every play through something a little different and always unpredictable. There will be a good number of ways to build your squad to best suit your play style so let the tactical genius inside you flourish as you make life or death decisions to try to beat this game."
- Alex Wilkinson, Indie Game Magazine
Request Press Copy
Please fill in your e-mail address below and we'll get back to you as soon as a press copy is available for you.

About Worthless Bums
Boilerplate
Worthless Bums turns Pocky into code. And sometimes art, music, and sound.
More information
More information on Worthless Bums, our logo & relevant media are available here.
Steam Marines Credits
presskit() by Rami Ismail (Vlambeer) - also thanks to these fine folks