Out with the Old…
Steam Marines 1 had some issues with visual clutter. Lots of tiles, lots of colors, sprites overlapping sprites – it was a bit of a mess, in retrospect.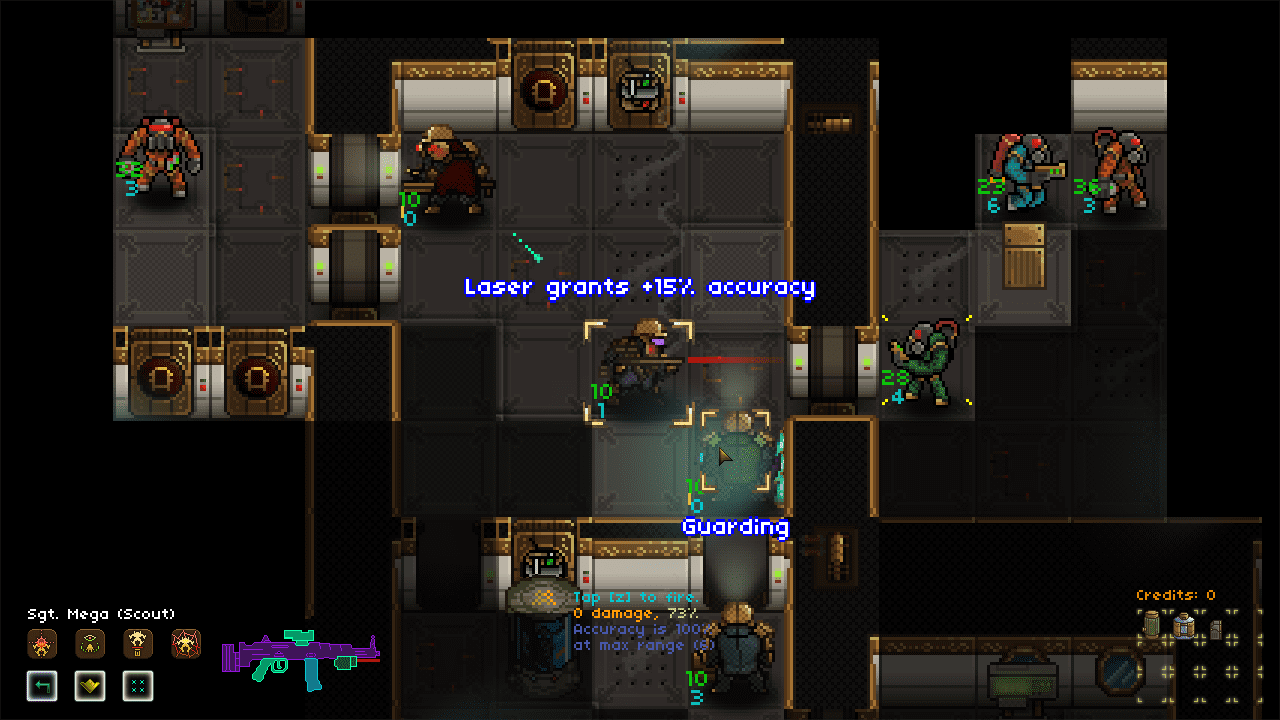 More than one player complained about the doors. Visually speaking to a lot of players it looked as if the marines were actually one tile higher than they actually were from the doorway. The red-cloaked marine in the upper left of the screen? He can step onto the tile directly left of him – that's an open doorway tile.
Yeah.
Beyond that I had flashlight and laser sprites with transparency, fog of war tiles could slowly fade away to reveal their tiles, marines had cones of vision that depended on their facing direction, and items could be on chests and there was animated flashing explosives on doors and and and… it was a lot. Too much, probably.
I've tried to rectify that in Steam Marines 2.
… In with the New
The one thing I did like a lot about Steam Marines 1 (SM1) was the black around the playing field. It made for some poor screenshots, unfortunately, but it helped to focus the player on the actual game. This is what Steam Marines 2 (SM2) looks like in the tactical field:
As you can see I've retained the black edges, all around the tactical field and even on top of environment walls. Differences include:
Fog of war is binary now. In SM1 fog of war had three levels: 1) unexplored, 2) currently seen, 3) seen before, but not currently. Having only 1) currently seen and 2) not currently seen has a lot of benefits. For one it's easier to render! Another is it keeps all that lovely negative space around the player. And a third is it keeps a sense of mystery and oppression the entire time because you'll never have enough marines to see the entire map at any given time.
Almost no visual clutter. There are a few item pickups that spawn, and there are details and some grass in the Alien Temple level, but it's not visually cluttered like in SM1.
The doors are a lot more clear now. Unlike normal environment walls doors are not black topped and the level lighting slices into the top of the doors, in this level giving the doors a hot purple look. They are also taller than the surrounding environments.
The UI is overall a lot less intrusive. There's the portrait, name, and stats of the currently selected marine in the upper left, the squad ammo bar on the bottom center, and an action panel in the bottom right corner. There are some contextual UI elements such as the green cog under the currently selected marine, and the blue tile overlays showing where that marine can move to. There are also a few text boxes and such that pop up during attacks and other such, but by and large it is much less cluttered.
Part of that is because I shoved some stuff into a submenu. Another is that I removed squad inventory. Squad inventory, as I've noted before, is not a great addition in permadeath games. By tradition most roguelikes would beg to differ on that point, but I'll maintain my position: Players frequently try to save items because the nature of the game is to place you into holes you have to dig yourself out of. Then, they forget they have them because they spent hours refusing to use them unless they felt the situation was dire enough. In other words, their behavior slowly gets molded from "Okay, don't use powerful, rare items until I REALLY need to!" to "Don't use items!" to "What are items?"
Aside: Have you ever ended a (non-permadeath) RPG and noticed you have an inventory full of super-powerful items you saved up and never, ever used? Did you die at all on the playthrough? Yeah, that.
SM2's fog of war is also soft and blurry at the edges, not hard and discrete like in SM1. Mechanically it's the same, though marine visual and weapon ranges are by discrete tile and not partial tiles.
I think overall this is the correct direction to go in, although I do have some misgivings about the marine action camera when aiming at enemy targets:
That is A LOT of black on the upper half of the screen. I've been thinking of putting something there, although it begs the question: why is there no roof in any of these interior environments?!
Thanks for reading,
Mister Bums
You can contact me at [email protected], Twitter, or leave a comment below!